Purchase a Panther Social rickshaw and help change someone's life.
Why Should I Buy a Panther Social Rickshaw?
It will help make a positive change in someone's life
Rickshaw branding is a very effective, eye-catching and innovative way to advertise. Advertise your company/brand and get great exposure!
Panther Social rickshaws are modified and well maintained, and have added safety features for passengers' protection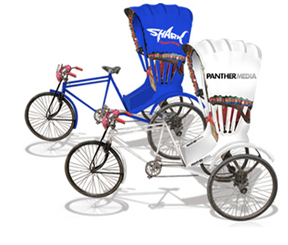 All Panther Social Rickshaws are equipped with a pecial plaque, creating a very positive association with your company/brand
A great philanthropic activity to give back to your community
Where does my money go?
A proportion of the funds are used towards the branding and rickshaw enhancement. The remainder of the funds are used towards the program created to benefit the rickshaw pullers. Once the costs for the program are covered, a small portion of the funds contribute to administrative overheads.
How does the branding work?
The entire lining of the hood is replaced with a custom-designed print. The whole rickshaw is branded – the body is painted, and the sides, back, and hood, are designed as per client specifications. There is also a special plaque on Panther Social rickshaws to help identify them.
To order, or to find out more information, please get in touch –
rickshaws@panthersocial.com
or call +880161-PANTHER