Professor Muhammad Yunus is an award winning Bangladeshi economist and founder of Grameen Bank, an organization that provides microcredit to help its clients (the impoverished) establish financial self-sufficiency. In 2006 both Yunus and Grameen received the Nobel Peace Prize and have continued their work to help the world's most impoverished citizens ever since.
Wining a Nobel Prize not only gave Professor Yunus recognition for the years he had worked in microfinance but also gave him further inspiration to 'put poverty in a museum'. During his reception of worldwide fame for his work in microfinance Professor Yunus published his work Creating a World without Poverty—Social Business and the Future of Capitalism (2008), in which he outlined his renewed vision with prestigious prototype social businesses such as Grameen Danone, Veolia, and Reebok underway.
In 2006 the Yunus Centre was founded to realize and promote the idea of social business around the entire world. By 2010 a Global Social Business Summit was flourishing in Germany with social businesses from all across the world meeting and networking to further his vision.
Professor Yunus's career and vision has always been outlined by a straightforward pragmatism, international consciousness, and strong business ethic which are present in his every pursuit. This tenacity of spirit and excellence in practical idealism has led Professor Yunus to receive numerous awards, partnerships, and recognitions such as
PBS documentary of 'the 25 Most Influential Business Persons of the Past 25 Years', Time magazine's listing of him as one of the top 12 business leaders, and his ranking as 2nd in the Top 100 Public Intellectuals by Prospect Magazine (UK), and Foreign Policy (US).
Overall it is Professor Yunus's unmovable resolve to pursue the eradication of poverty in all forms that has motivated his work and become the cause synonymous with his name. As he famously remarks, "the only place where poverty should be is in museums."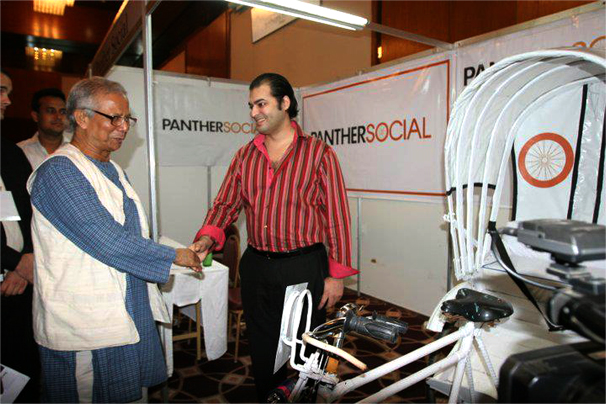 Professor Yunus shaking hands with Panther Social Founder Ahad Bhai