The Bangladesh Social Fund is structured as a non-profit Foundation in Bangladesh with an Investment Committee, a Board of Directors and a Supervisory Board. Subject to approval by the Board of Directors, the Investment Committee makes investment decisions and controls the release of BDS funding.
The roles and responsibilities for Fund management and administration are shared between the Yunus Centre and Panther Social. The Fund management team is tasked, among other activities, with finding potential investments and proposing them to the Investment Committee, executing the investments on behalf of the Fund, managing the investment portfolio (including repayments and investee monitoring), managing relations with investors and maintaining the Fund's accounts.
The following diagram show the Fund's general structure for investment capital and for business development services.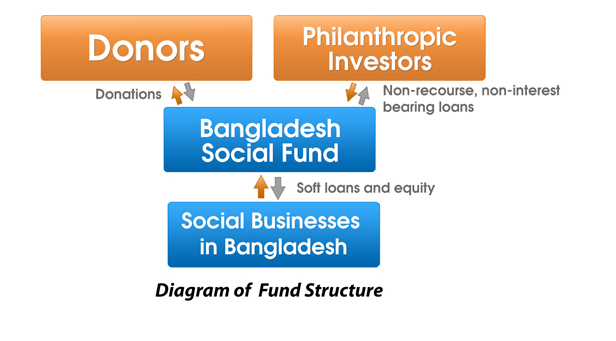 Fund Capital
The Bangladesh Social Fund is being capitalized through the contributions of philanthropic partners such as foundations, international development agencies, companies or individuals who share an interest in creating sustainable social impact in Bangladesh. The total targets size for investment capital in the fund is USD 10 million.
1.1 Investment
The Fund is open to philanthropic investors. Investments are made as non-recourse, unsecured, non-interest-bearing loans with a maturity of 5 years or more. Investor contributions are used exclusively as investment capital for social businesses, but investors are encouraged also to provide a donation in addition to their loan (see below for information about donations).
The Fund is a high-risk financial vehicle and investors making loans need to be aware that capital erosion is possible. The Fund is explicitly not an appropriate vehicle for most individual investors, pension funds, or others with a limited risk appetite.
1.2 Donations
Donations are also accepted into the Fund. For all donations, a clear distinction is made, and proportions are agreed up-front between donor and Fund, between investment capital for social businesses, money to be used for BDS, and general administrative costs for operating the Fund. The Fund's recommendation is that 75% of any donation is earmarked for investment capital, 15% for BDS and 10% for administration. The proportions can vary, and are agreed beforehand with eachdonor.